About Youth Kenjutsu & Iaido
Let's BOOST your Child's Development!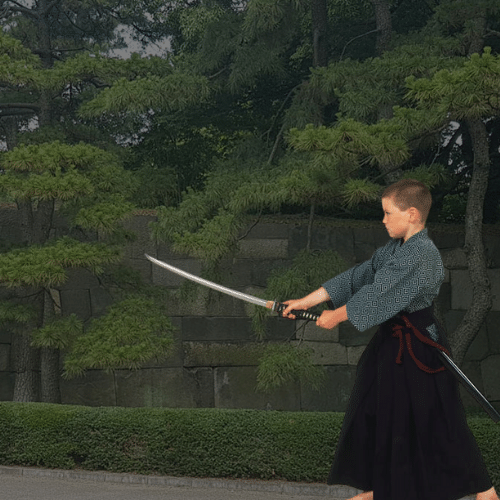 Iaijutsu are skills based on the ancient use of the samurai sword. In Ninja Kids Sword, kids use a wooden sword with sheath (bokuto and says) to learn fast drawing and returning of the sword. This is also a competition sport around the world, known as Iaido.
Kenjutsu is the art of sword fencing. Children also use a wooden sword for this. When practicing with partners, they use a safe soft sword. A modern version of kenjutsu exists, and is called Kendo. Kendo is a competitive sport, practiced by millions of children around the world.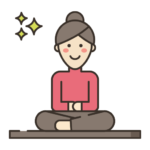 Focus
Iaido improves focus and concentration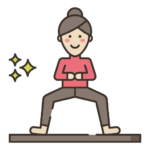 Stretching
Iaido helps with flexibility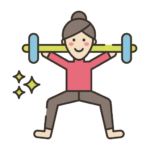 Strength
Iaido includes body conditioning
Mindset
Iaido creates a flexible mindset
Learning Iaido and Kenjutsu
La Ronge Ninja Kids Martial Arts® members can also sign up for Youth Kenjutsu and Iaido. Lessons are twice per month and cost $10 each (drop-in fee). Members also purchase a wooden sword and sheath for $75.
The wooden sword is called Bokuto, and the sheath is called saya. Our instructor imports high quality bokuto from Japan. These are handmade according to measurements that fit a child's hand properly. Made from Japanese oak (Shirakashi) with a beautiful red finish. Handmade in Miyakonojo, Kyushu Region, Japan.
Children need a regular martial arts uniform with their belt for kenjutsu and iaido classes. After learning basic skills as well as control and safety procedures, children can commence lightsaber-style competitions within our program. Kids can also participate in displaying their iaido (sword drawing) skills for earning awards.
If you wish your child to attend the Sword Fencing classes, please purchase a wooden sword and sheath (bokuto and Saya) through us right away. We need to order them from Japan and this takes a few weeks. The bokuto (sword) is a shorter length (and thinner) than adults use. The sheath is the regular length so that as kids get taller, they can upgrade their wooden sword to longer version but keep the same saya.
The kenjutsu and iaijutsu programs are licensed by the NIHON-DEN KOBU-DŌ BUSHIN KAI in Toyotashi, Aichi Prefecture, Japan.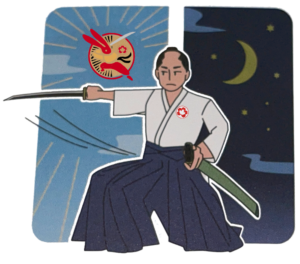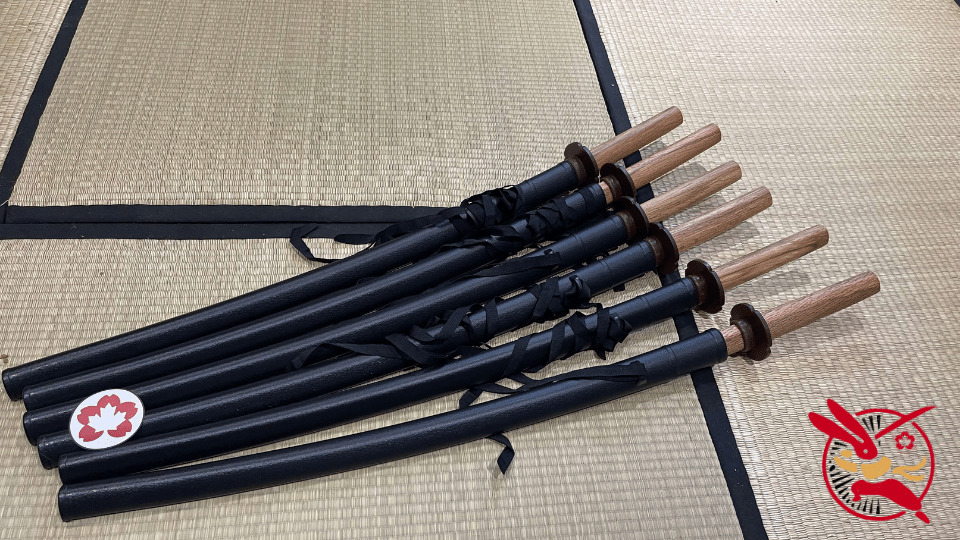 Iaido uniform consisting of an iaidogi (top) and hakama (pants), and a pair of iaido & kenjutsu shoes with rubber sole. All Premium Quality. No refunds nor returns as each order is personalized to your measurements. Delivery takes about 3 weeks.
Friday
6:45 pm - 7:15 pm (Sword)
Old Traditions in a Modern Approach!
Frequently Asked About Training
The monthly cost to participate in training sessions is a flat fee of $10 per lesson. 
Yes, the following is irrelevant: physical condition, gender, age. The minimum age to join is 8, and considerable experience in Ninja Kids is required (minimum of orange belt)
Yes, Ninja Kids is recognized by Kids Sports for funding. Please contact Kids Sports directly for an application form.